Best Residential Heating Company
in Piqua
As a property or business owner, choosing the right heating unit for your property or office can be overwhelming, especially with the vast array of options available today. From forced-air systems to radiant heating, and everything in between, it can feel like you need a degree in HVAC just to make a decision.
However, taking the time to research and understand the pros and cons of each type of heating system will save you time, money, and frustration in the long run. Whether you're looking for something that's energy-efficient or budget-friendly, there's a heating unit out there that will fit your needs. So, take a breath, do your research, and we trust that you'll find that JH Heating and Air is the best residential heating company to keep your property or commercial space warm and cozy for years to come.
Dependable Heating Contractor You Can Trust
We all depend on a properly functioning heating system to keep us warm and comfortable when the temperatures outside have dropped. It is important to have a qualified HVAC contractor perform regular maintenance on your system and be ready when a repair is needed. Property and business owners in Piqua, Troy, Sidney, Covington and St. Paris, Ohio can depend on our heating contractors to service any malfunctioning heating system. No one likes to wake up to a broken or malfunctioning heater, especially in the dead of winter. That's why it is important to have a professional heating contractor that you can rely on and trust.
We at JH Heating & Air, pride ourselves on providing exceptional heating repair services to our clients. With a friendly and professional team skilled in handling most brands and models of heaters, we strive to ensure that your home remains comfortable and warm throughout the chilly months. Our experienced technicians are committed to delivering top-notch service and will go above and beyond to ensure that your furnace equipment is functioning efficiently and effectively.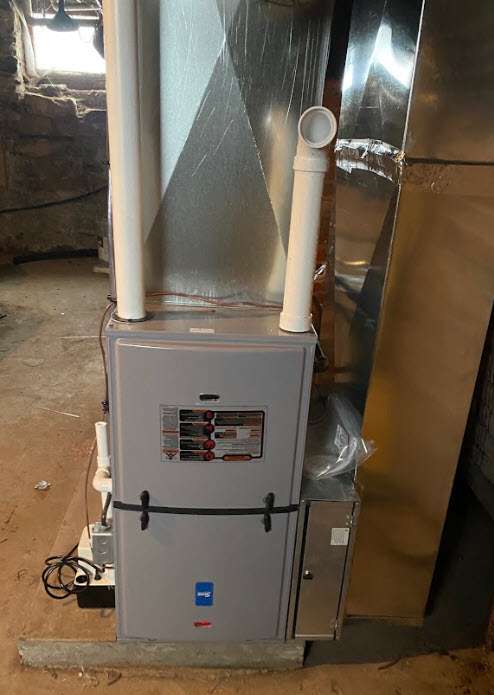 Affordable Heating Company in Piqua
Living in a place like Piqua, Ohio can be tough during the winter season. With the chilly temperatures outside, having a reliable and affordable heating company is a must.
However, finding the perfect heating company can be quite a challenge. Luckily, there is one company that stands out from the rest. JH Heating and Air in Piqua, Ohio not only offers affordable prices, ask about our weekly specials and special financing.
We truly understand the importance of keeping your home warm and cozy all winter long. So, don't hesitate to give us a call and experience the best heating services in town.
Are you looking for a heating and air conditioning company in Piqua that offers competitive prices, quality customer service, and dependable solutions? Look no further than JH Heating & Air – we are your local experts!
What People Say About
JH Heating & Air
Shelly O'Brien
March 28, 2023
Jason was amazing. Called him, he came the very next morning gave us an estimate within two hours, ordered the unit we needed and installed within three days. Great value great customer service, good people!
Jeremy Blanford
December 30, 2022
I'm not one who's easily impressed, but this is quite the exception. Rental house furnace went out after the arctic cold snap over Christmas. I raced to find someone who could look at. That company informed they were 2 weeks out for quotes after condemning the furnace. The following morning I sent an inquiry to Jason, who responded within 15 minutes. I was told he would go and quote that afternoon, and gave me a timeframe. He actually showed up nearly an hour early. I received a quote soon thereafter and was informed he could install it within 48 hours if we agreed on the price. The quote was quite reasonable I felt and gave the go ahead. Jason arrived before he said he would and had the entire HVAC system installed within 8 hours… virtually by himself. Very professional, prompt, and very reasonable. I had called four other companies for quotes and never received a response except for one who finally returned the call while Jason was busy with the installation. I highly recommend this business !
Nate Lukey
December 23, 2022
Jason is a honest guy to deal with. If you need hvac service, give him a call.
Adam Anders
November 5, 2022
Jason did a great job was professional showed me everything that was wrong with the old furnace and replaced it with in a few days. Would recommend I'll be calling him for services in the future!
Lefty Cooley
October 27, 2022
Great service and value. This guy is the Real Deal, helpful, honest, and knowledgeable! The job gets done and done right! What more could you ask for?
Jacob Roberts
October 13, 2022
Jason was a very personable technician that was very reasonably priced and attentive to details. He was very receptive of ideas and worked through various challenges that my renovation project presented. Would highly recommend his services.
Great work at a great price. I recommend this company for all your heating and a/c needs. The owner was very professional and knowledgeable. I would use them again.
Beverly Smart
September 30, 2022
I would highly recommend Jason at JH Heating and Air. Showed up on time, quality work and cleaned everything up and hauled all the trash away. Very reasonable. Any questions I had Jason was very prompt in responding.
Jackson Rental Properties INC.
September 29, 2022
Have used Jason for several jobs for furnace repair and installation to water heater installation and repair. He always responds quickly and does fast good quality work at a reasonable price. We now use this company for all our furnace and water heater issues. Highly recommend them.
Charles Ricketts
September 29, 2022
Answered all my questions and we are very happy Would recommend JH Heating and air conditioning For anyone that needs service for a new air condition or Furnace Or repair