Maximizing Your Indoor Air Quality
in Piqua
RGF® is at the forefront of revolutionizing air purification and has taken things to a whole new level with their HALO-LED™ Whole Home In-Duct Air Purifier.
This state of the art device uses REME-LED®, an advanced technology, to purify your home's environment without worrying about ozone creation or potential mercury contamination from traditional UV lamps found in some other systems. With improved energy efficiency and extended life expectancy, it's no wonder why so many are turning towards this innovative solution for cleaner air!
Breathe Easier with the Whole Home In-Duct Air Purifier
Transform your living space with innovative air treatment that combines hydrogen peroxide and ionization! This cutting-edge method reduces viruses, bacteria, mold spores – even pet dander and pollen. The energy efficient UV-C LED is cleverly designed to turn on when it needs to while the hybrid ceramic catalyst ensures a thorough clean without much effort from you.
Disperses Natural Concentrations of Gaseous Hydrogen Peroxide
The HALO-LED™ is the perfect solution for anyone looking to get cleaner air in their home. This revolutionary air purification system disperses natural concentrations of gaseous hydrogen peroxide throughout your home, reducing viruses, bacteria, mold spores and odors in minutes. Low levels of airborne hydrogen peroxide are silently distributed throughout the air-conditioned space, creating a safer environment for you and your family.
Energy Efficient & Long-Lasting
The HALO-LED™ is incredibly energy efficient and long-lasting. It is designed to turn on and off as the air flows through the unit, saving energy and making the unit last up to 2.5 times longer than the REME-HALO®. This makes it the perfect solution for those looking for an energy-efficient and long-lasting air purification system.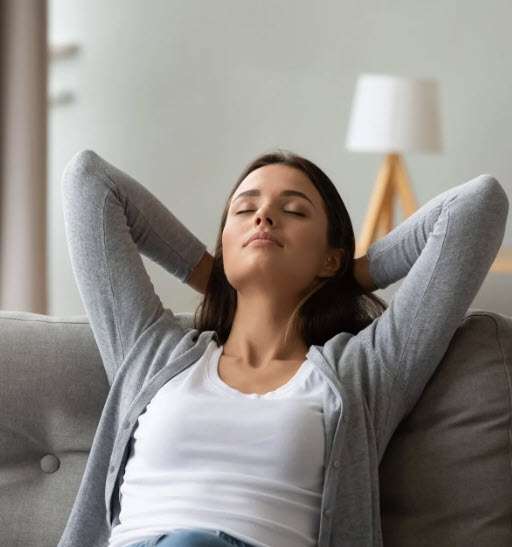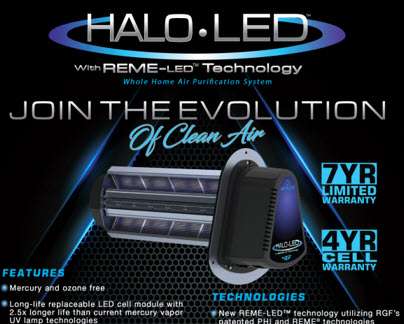 Advanced Technology for Better Air Quality in Piqua
The HALO-LED™ air purifier is a revolutionary device that eliminates the pollutants, allergens, and toxins found in indoor air. Using advanced technology, the HALO-LED™ is able to trap and neutralize contaminants that conventional air filters and HEPA filters simply cannot reach. As a result, you can breathe easier knowing that your home or office is filled with clean, fresh air.
Combat Indoor Air Pollution
The HALO-LED™ is designed to combat the indoor air pollution that plagues so many homes and offices. Studies have shown that indoor air can be five times more polluted than outdoor air, due to contaminants such as bacteria, viruses, and mold spores that are too small to be trapped by traditional air filters. With the HALO-LED™, you can reduce the amount of toxins in the air you breathe, dramatically improving your health and well-being.
Feeling sneezy and stuffy in your own home? Don't let the air quality take a toll on you any longer – we've got superior purification systems for residents of Piqua, Covington, St. Paris, Troy, and Sidney. Let us give you the breath of fresh air that everyone deserves!
What People Say About
JH Heating & Air
Harley keiser
July 18, 2023
Jason and his guys did a stand up job on a new complete install. very professional and timely highly recommend. Thanks again Jason
Kelly Frierott
June 30, 2023
Absolutely wonderful! They helped us out so much!! Extremely fast and super responsive! I cannot recommend these wonderful guys enough!! Thankyou!!
Jason was very professional, friendly, knowledgeable and fixed our ac for a reasonable price and didn't try to sell us anything we didn't want or need. I would recommend anytime!!
revona robinson
May 17, 2023
Excellent work. This young man is very professional and punctual. Highly recommend him.
Zach Z (Zazman)
May 6, 2023
Great service, very responsive and professional.
Shelly O'Brien
March 28, 2023
Jason was amazing. Called him, he came the very next morning gave us an estimate within two hours, ordered the unit we needed and installed within three days. Great value great customer service, good people!
Jeremy Blanford
December 30, 2022
I'm not one who's easily impressed, but this is quite the exception. Rental house furnace went out after the arctic cold snap over Christmas. I raced to find someone who could look at. That company informed they were 2 weeks out for quotes after condemning the furnace. The following morning I sent an inquiry to Jason, who responded within 15 minutes. I was told he would go and quote that afternoon, and gave me a timeframe. He actually showed up nearly an hour early. I received a quote soon thereafter and was informed he could install it within 48 hours if we agreed on the price. The quote was quite reasonable I felt and gave the go ahead. Jason arrived before he said he would and had the entire HVAC system installed within 8 hours… virtually by himself. Very professional, prompt, and very reasonable. I had called four other companies for quotes and never received a response except for one who finally returned the call while Jason was busy with the installation. I highly recommend this business !
Nate Lukey
December 23, 2022
Jason is a honest guy to deal with. If you need hvac service, give him a call.