Along with a functioning AC unit, it is important for every home to have a functional furnace or another type of heating system. Without it, the winter months can be extremely cold even when you're indoors. But sometimes things happen and a once functional furnace is no longer working. When you find yourself in this situation, call our team to help tackle your furnace repair Dayton, OH and get you back up and running again. Our diagnostics fee is waived when you have JH heating and Air complete the necessary repairs. We provide Maintenance, repair, replacement, and other services that you may need for your furnace. Whether you have a bad thermostat or your heat pump needs to be serviced, when you are looking for heating repair Dayton, Ohio, give us a call. We provide all of your furnace needs, whether you have a new-construction home or an existing home installation. We have technicians to take care of all of your heating and cooling needs.
Living in Dayton, Ohio, you know that we have a million seasons between each actual winter season. Ohio weather likes to tease us. So when the time comes that we finally do shut our furnaces off for the year, it often will sit unused for several months. While your furnace is not in use, dust particles from your house are able to freely fall into your furnace. It is highly recommended that you have your furnace inspected each year BEFORE use to ensure that it is working properly. You don't want to be without heat when Ohio decides that it wants to drop the temperature outside to 30 (degrees) in the middle of September. Oftentimes, we can do an inspection on your furnace and warn you if your heater blower motor is going bad. Beyond warning you of a potential part failing, when you call us to come out and inspect your furnace, we will also check the filter. A dirty filter can lead to a lot of problems within your furnace.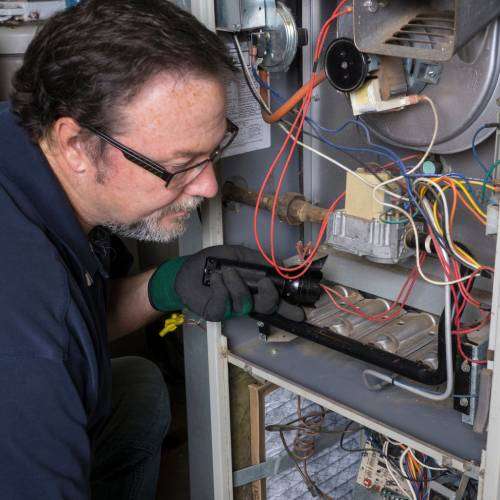 A furnace is designed to provide all-around comfort and regulate the temperature inside of your home. IF your filter is dirty, this can cause some issues with the furnace working properly. Not only does a dirty filter reduce your air quality inside your home, but it can also lead to higher heating bills. Beyond that, a dirty filter can do extreme damages to your furnace. A clogged furnace filter could eventually lead to a damaged heat exchanger. Like you need fresh air to breathe, so does your furnace. Constant intake of poor air quality will shorten the life of your furnace.
Sometimes, a dirty furnace filter will cause the furnace to shut down. The dirtier your filter is, the harder that your furnace must work. As time progresses and the filter is still dirty, your furnace is taking that dirty air in and is slowly becoming clogged. SO how often should you change your furnace filter? Well, there is no one rule of thumb. It depends on the type of filter and the size of filter that your furnace requires. Some filters last 1-3 months, while some last 9-12 months. Unsure how often you should change your furnace filter? Check out our Comfort Care Program for prepaid HVAC services.
When it comes to Dayton furnace installation and maintenance, JH Heating and Air has everything you will ever need. Reach out to our team today for a free quote on your new furnace installation.
Our Heating & Cooling
Services





What People Say About
JH Heating & Air
Shelly O'Brien
March 28, 2023
Jason was amazing. Called him, he came the very next morning gave us an estimate within two hours, ordered the unit we needed and installed within three days. Great value great customer service, good people!
Jeremy Blanford
December 30, 2022
I'm not one who's easily impressed, but this is quite the exception. Rental house furnace went out after the arctic cold snap over Christmas. I raced to find someone who could look at. That company informed they were 2 weeks out for quotes after condemning the furnace. The following morning I sent an inquiry to Jason, who responded within 15 minutes. I was told he would go and quote that afternoon, and gave me a timeframe. He actually showed up nearly an hour early. I received a quote soon thereafter and was informed he could install it within 48 hours if we agreed on the price. The quote was quite reasonable I felt and gave the go ahead. Jason arrived before he said he would and had the entire HVAC system installed within 8 hours… virtually by himself. Very professional, prompt, and very reasonable. I had called four other companies for quotes and never received a response except for one who finally returned the call while Jason was busy with the installation. I highly recommend this business !
Nate Lukey
December 23, 2022
Jason is a honest guy to deal with. If you need hvac service, give him a call.
Adam Anders
November 5, 2022
Jason did a great job was professional showed me everything that was wrong with the old furnace and replaced it with in a few days. Would recommend I'll be calling him for services in the future!
Lefty Cooley
October 27, 2022
Great service and value. This guy is the Real Deal, helpful, honest, and knowledgeable! The job gets done and done right! What more could you ask for?
Jacob Roberts
October 13, 2022
Jason was a very personable technician that was very reasonably priced and attentive to details. He was very receptive of ideas and worked through various challenges that my renovation project presented. Would highly recommend his services.
Great work at a great price. I recommend this company for all your heating and a/c needs. The owner was very professional and knowledgeable. I would use them again.
Beverly Smart
September 30, 2022
I would highly recommend Jason at JH Heating and Air. Showed up on time, quality work and cleaned everything up and hauled all the trash away. Very reasonable. Any questions I had Jason was very prompt in responding.
Jackson Rental Properties INC.
September 29, 2022
Have used Jason for several jobs for furnace repair and installation to water heater installation and repair. He always responds quickly and does fast good quality work at a reasonable price. We now use this company for all our furnace and water heater issues. Highly recommend them.
Charles Ricketts
September 29, 2022
Answered all my questions and we are very happy Would recommend JH Heating and air conditioning For anyone that needs service for a new air condition or Furnace Or repair